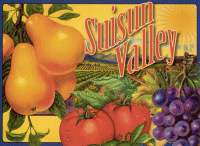 With a wine-making tradition more than a century old, Suisun Valley is a little known corner of Solano County that has gained recognition as one of the premier grape-growing regions of California. Separated from Napa Valley on the west by a mall range of low hills, the similar climates, soils and geography of these valleys are some of the best in the State for growing grapes. For this reason, Suisun Valley and neighboring Green Valley, with Napa, Sonoma and Mendocino Counties are joined under the North Coast Appellation, an officially recognized wine district famed worldwide for quality wines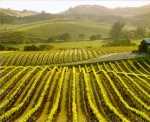 Several large wineries and vineyards sprang up in Green Valley in the 1860s, but phylloxera epidemics in the 1870s, and the 1919 enactment of Prohibition devastated the local grape industry. Yet new vineyards and wineries sprang up in adjacent Suisun Valley with the prosperity that followed the end of World War II, and more came with the "wine boom" of the 1960s.
Over the years there has been recognition that the Mediterranean climate, fertile soils, and sunny hillsides of Suisun Valley and Green Valley result in high-quality grapes. Today, these valleys boast several family-run wineries and vineyards, which with new vineyard locations, different variaties of grapes, specialized growing techniques, and skilled winemaking are poised for even greater success and recognition in the future.