Back to Suisun Valley History Archives
Notes on the Wolfskill Family of Suisun Valley
Part 2: Ned Wolfskill's Notes
---
---
Excerpts from Edward "Ned" Wolfskill's
Wolfskill Family Tree
www.ancestry.com/boards/surnames.wolfskill/29/mb.ashx



Posted on Ancestry.com by David H. Wolfskill on 9 Aug 2003.

[In this, as well as the following message, I have tried to transcribe the text as accurately as I can. I know that some apparent typographical errors were retained (intentionally); it is possible that I managed to introduce or correct some; if that happened, I apologize. dhw]

[This is from a visit to UC Davis Special Collections on Thursday, 07 Aug 2003.]

From Ned Wolfskill collection, box 6, folder 41: Family History notebook

L: Lincoln. Mr & Mrs. Abraham (nee Todd). This Mrs Abraham Lincoln, (nee Todd), had a nephew, Lock Todd, here in California, At one time he was a book keeper at the Almaden Quicksilver mine near San Jose. California. He was afterward at the rancho "96", and the Milton Wolfskill place Solano County, California. and this Lock Todd, and Milton Wolfskill, were negotiating, with Todd's influence for the Customs draying at the port of San Francisco, California during Lincoln's administrstion. They were not able to get the job.

W: Wolfskill, Samuel P. This Samuel P. Wolfskill, is a descendant of the Heinrich Wolfskill, family who came here from Germany in the year 1742. Sailing from Rotterdam. There is quite a family of of them but I have been unable to connect them with our branch of the family.

III. # William J. Wolfskill, born April 1st, 1795. married Susan Wheeler, October 1817. died July 31st, 1876. William J. Wolfskill's father having been accidentally killed by his own brother Joseph, Joseph took his son William Wolfskill, to bring up - and he came to Missouri with his uncle Joseph Wolfskill's family in 1807. and helped to build Coopers fort. In 1815, he had moved his negroes from Kentucky, and married Miss Susannah Wheeler, they [This entry appears truncated -- dhw]

...

1. Wolfskill, William From Germany, arrived in America, probably 1742. Married Margaret Smith, in Pennsylvania, there were born to them 7 children;- Mary, Margaret, Peter, George, William, Joseph, one child died in infancy.

...
Winters, July 5th. 1926.
Dear Ned,

Please pardon my delay in answering your questions about the Wolfscales of Germany, & now I am not sure of all, but I have written you what I got from word of mouth. As soon as I can find the time I'll trace the life of Aunt Margaret Wolfscale Hendricks. She was born in Germany & her mother was one of the ladies of the court during Frederick the 1st. Crowned King of Germany. I think they came to America about 1740; I am not sure. I'll look that up as soon as I can - Please pardon my penmanship, I hurry so.

Sincerely,
(signed), Sue King.

Frederick first crowned King of Prussia January 18th. 1701. William and Joseph Wolfscale of Nurenburg, were officers in the Court of King Frederick from about 1705. Joseph Wolfscale - son of William Wolfscale Officer of the Court. William Wolfskill was born in Berlin 1707 - came to New York, (America), 1747. Joseph [crossed out]William Wolfscale & Margaret Schmidt were married in Berlin, 1745. To them were born Joseph Wolfscale, George Wolfscale & Margaret Wolfscale, who married Hendricks 1775, Madison County, Kentucky.

Joseph Wolfskill married Sarah Reid daughter of John Reid, to them was born William, Sarshel, John R. Mathus & Milton Wolfscale Margaret, Mary Susan. [The last child probably should be Mary and Susan.]

....

Joshua Hendricks, together with Peter Wolfskill. (his brother-in-law,) enlisted in the service of the United States Revolutionary war, and died with dysentery which was the last heard of them. This occurred in South Carolina.

When Joseph Wolfskill, with his family moved from Kentuckey to Missouri, in 1809, Mrs. Hendricks went with them. Joseph Wolfskill's wife grew so stout that she was almost helpless and Aunt Margaret Hendricks raised the family. Mrs. Hendricks lived to be very old, cutting a third set of teeth, and regaining her eyesight. Of course in those days there were little or no school advantages in the country, and it was not uncommon to find those who could neither read or write. Milton Wolfskill, (Mrs. Hendricks, nephew) tried to persuade her to take up the study of reading and writing, and he would coach her, but she maintained she was too old. She died in Howard County Missouri.
[Transcriber's note in his g-g-g-grandmother's defense: The comment about Sarah (Reid) Wolfskill growing "so stout" was, I believe, referring to a transient phenomenon: on 11 August, 1810, she was delivered of a set of twins, Smith and Mathus. In subsequent years, she gave birth to 4 more children, 2 of whom were part of the 5 Wolfskill brothers who came to California prior to 1853, and one of whom is my g-g-grandfather, and was the above-cited Milton Wolfskill.]
[Transcriber's note about the names "Smith" and "Mathus" : I read, but did not transcribe (for lack of time) an account that the twins' given names were the maiden names of their parents' mothers: Smith, from Margaret Smith, Joseph's mother; Mathus, from Bettie Mathus, Sarah's mother. Smith apparently "died young" , according to various entries in Ned's "Wolfskill Family Tree" folder. Mathus came to California and eventually settled in the Suisun Valley, near Fairfield; some of his descendants still live in the area: I met one of his g-g- granddaughters (my 4th cousin) while doing some research at the Solano County Archives in Fairfield; we had a nice chat.]
---
Excerpts from letters written by Ned Wolfskill.
Below are excerpts of transcriptions of two archived letters at the University of California at Davis that were written by Edward "Ned" Wolfskill, who was the son of John Reid Wolfskill. These letters are in the Wolfskill Family Collection: 1820-1975, which is housed in the Special Collections at the library. Both letters were transcribed by Mike Clark.
The first is an excerpt of a letter from Ned to a cousin, Mrs. Josie Peterman, dated August 9, 1927, Winters, CA.

"... This nephew was the son of John Wolfskill, who was also one of Uncle Mathus' children. You probably know that Uncle Mathus married Miss Permelia Ashcroft of Howard County, Missouri and came to California in 1850. Aunt Permelia Wolfskill, raised me from infancy I having lost my mother when I was but three months old...."

The second is an excerpt of a letter from Ned to a different cousin, Sue Amick, dated October 15, 1929.

"...Now concerning the relationship between myself and Edith Irene Wolfskill, whose remains were found in the bed of the Creek not so far from her home. She was the daughter of John Wolfskill, and John Wolfskill was the son of Mathus Wolfskill and Permelia Wolfskill, Permelia Wolfskill was a sister of Mrs Elizabeth Hickerson the mother of Uncle Hoss, Hickerson. Mrs Mathus Wolfskill was an Ashcraft. - Permelia Ashcraft) Uncle Milton Wolfskill, married an ashcraft also- Mahala Ashcraft- she was a sister of Permelia and Elizabeth, Mahala died in Missouri. Her son Sash came to California, with my Uncle Sash Wolfskill and his family. Uncle later married again here in California, and raised quite a family. There are two of Uncle Milton's children living---one in New Mexico, one in Los Angeles, California, So Edith's father was my 1st cousin...."
---
The letter below is in the Wolfskill Family Collection: 1820-1975, which is housed in the Special Collections at the Library of the University of California at Davis. It was transcribed by Mike Clark.
The J.C. Wolfskill Ranch,
Suisun Valley, Solano County, California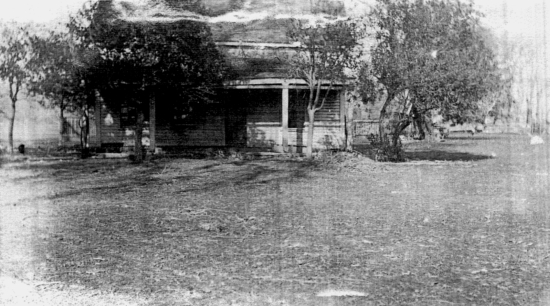 This house was built by Henry Whetmore sometime in the early 1850's. The lumber of which it was built came around Cape Horn by sailing vessel from the East or New England.
The place was purchased from Whetmore, by J.C. Wolfskill. His father, the late Mathus Wolfskill, with his family moved from Los Angeles, California onto this place along about the latter 1860's. There were of the Mathus Wolfskill family – Mathus Wolfskill, his wife Permelia, his two sons John and Joseph C., and a servant (Indian girl) named Kate.
When the place was purchased it was a dense growth of brush, vines and trees along the creek, and in the time of flood the water was obstructed by this growth of brush, vines and trees that the water could not pass off and the entire place was flooded. Mathus proceeded immediately to clear the creek of the obstruction and soon the water could pass on its way without overflowing the place.
Pears from the old Bartlett Pear orchard were among the first pears shipped fresh from California to the Chicago market. Washington Broker, Nate Saulsbury of Porter Bros., Chicago, Ill., began the shipment of California fresh fruit to the Chicago market and built up a nice business. Later other firms went into the business. Porter Bros. would buy these pears, pack, and ship them east by rail. The Suisun pears at the time were the best shipping pears for the eastern market.
On this ranch the famous Edelweiss* was fouled and reared to race mare hood by the late J.C. Wolfskill. Edelweiss was the famous long distance race horse of the Pacific Coast for many years.
This beautiful place belongs to the heirs of the late J.C. Wolfskill.
The old house has been torn down and removed – lo these many years and their residence now is a beautiful two-story frame building with all modern conveniences and comforts occupying a site near the old residence.
by Edward "Ned" Wolfskill,
Winters, California, April 30th, 1929
*[NOTE: The following is not by Ned Wolfskill, but from Transactions - State Agricultural Society]

California State Fair, Sacramento, September 12, 1888.— Free purse, $300 ; one mile ; for all ages.

Out of the seventeen nominations nine started: Edelweiss, Ashe's Idalene Cotton, Haidee, J M R, Fusilade's Last, Wild Oats, Oro, Al Farrow, and Nerva. Idalene Cotton brought $40 in the pools against $60 for the field and $32 for Al Farrow. At the first quarter Edelweiss was ahead, with Idalene Cotton second. The horses held this position all the way around, Edelweiss winning, Idalene Cotton second, and Haidee third. Time, 1:43.

Mrs. S. B. Wolfskill's br[own]. m[are]. Edelweiss — Hazlett 1 [name of the jockey]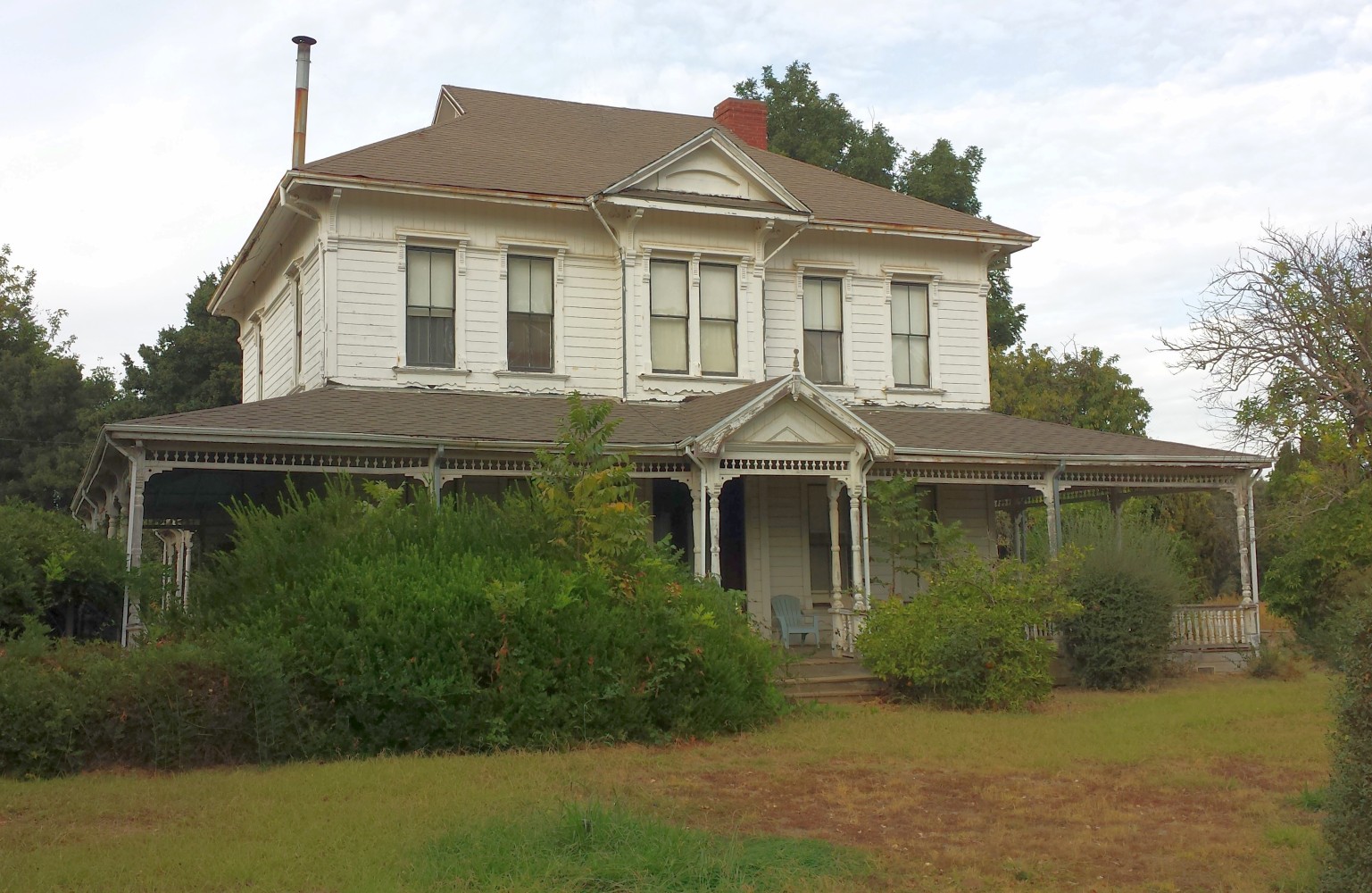 The Victorian house built by J.C. Wolkskill to replace the Wetmore House.