Back to Suisun Valley History Archives
Notes on the Wolfskill Family of Suisun Valley
---
---
WOLFSKILL, MATHIUS, was born in Howard county, Mo., August 11, 1810, where he resided for forty years, when, on May 16, 1850, he with his family, left for California, and, enduring the hardships of a journey across the plains, arrived at the ranch of his brother, John R. Wolfskill, on Putah Creek, on September 3oth of that year, and resided on the banks of that stream until he moved to his present property in Suisun township , in the Fall of 1`866. His ranch comprises seven hundred acres. He married, September 1, 1831, Permelia Ashcroft, by whom he has two children alive, John, a resident of San Diego county, and Joseph C., who resides with his father.
From Munro-Fraser, J.P., 1879, The History of Solano County, Wood, Alley & Co., East Oakland, p. 429-430.
---
HON. J.C. WOLFSKILL
One of the most noteworthy ranches in California is that owned by J.C. Wolfskill. It is located near Manka Corners, Solano County, and consists of two-hundred and fifty acres, and was originally located by Mr. Wetmore, who sold it to the father of Mr. Wolfskill, from whom it descended to its present owner, The Wolfskill family was closely allied with the history of the County in the early days, there being five brothers who came west at different times and located in different parts of the state. The founder of this family, Joseph Wolfskill, was a Kentuckian. Of his five sons, William, the eldest, was born in 1796, and died in Los Angeles, California in 1856. The next in order of birth was John Reed, born in 1804; then came Mathus, born in Howard County, Mo., in 1810, and died at the home of his son, Joseph C., October 15th, 1891; Sarshel died in Solano County. Milton the youngest is the only one of the brothers now living, and is making his home in Los Angeles. To trace the career of these brothers is like reading an old romance. The two oldest, William and John R., were in New Mexico as early as 1829. In 1831, William came to San Bernadino County, where John R. joined him in 1838. John R. Wolfskill was the first white man to locate in Solano County. The brothers were also in Los Angeles County for a time, and there in 1842, William received a valuable land grant from the Spanish government, as the result of his marriage to a lady belonging to a prominent Spanish family. This land comprised fourteen thousand acres and was known as the Rancho de Los Putos, lying on either side of Putah Creek in northern Solano and Yolo counties. The widow of Sarshel Wolfskill is now living on this place.
Mathus Wolfskill first located near Winters, Solano County, crossing the plains with his family by ox team in 1850, and reaching his brother John's ranch on Putah Creek in October of that year. He later disposed of his holdings in 1865 to Theodore Winters, who subsequently established the town of Winters. In 1866 Mr. Wolfskill, came to Manka Corners, Suisun Valley, and bought the Wetmore ranch, which he at once set about improving. There were already some improvements in place, among them being a frame house which was framed in Boston, and brought around the Horn in sections, being set up after reaching the ranch. This house is still in a very good state of preservation and is at this time in use as a bunk house for the ranch hands on the place. Mr. Wolfskill stocked his ranch with cattle, sheep, horses and hogs, devoting a large part of the land to grain, which he raised in large quantities. Believing that the country was peculiarly adapted to fruit culture, he at once put his theories into practical effect by setting out a large variety of trees, among them being oranges, lemons, pears, plums, apricots, and in addition to these he put out olives, English walnuts, almonds, grapes, etc., all of which throve in due season yielding abundant crops. As time passed Mr. Wolfskill, redoubled his first efforts to reach a foremost place among the farmers and stock raisers of the state and lived to see his labors crowned with the highest success, acquiring considerable wealth, and at one time had large land interests, but sold of his land except for the original homestead. His wife was before her marriage, Miss Permelia Ashcraft. She was born February 10th, 1810, and died January 21st, 1876. Four children were born of this union, John, now a capitalist of Los Angeles; Amanda and Sarah, both deceased, and Joseph C., the subject of this article. Mathus Wolfskill died on his ranch October 1891.
Joseph C. Wolfskill was born in Howard County, Mo., November 23rd, 1843, and was a mere lad when he crossed the plains with his parents. His education and training were received in California, and after completing his studies he retuned home and assisted his father,. Having a fondness for outdoor life, in his youth he acquired a reputation as a rider, just as years before his and uncles had been noted hunters and trappers. After the death of his father he inherited the family homestead, to which he has added other land, having about seven hundred acres in all at this time, and has built a handsome and modern farm house, with a wide veranda on three sides, and large airy rooms. The grounds are enhanced by oak and other trees, and altogether is one of the ideal homes of California. Mr. Wolfskill inherited his father's tastes and ideas regarding farming, and has continued upon much the same lines, meeting with uniform success in raising fruit; and as it requires no irrigation the fruit is of a most excellent flavor and richness. Bartlett pears are especially successful here, and Mr. Wolfskill has one English walnut tree about three feet thick, set out in 1867, which yields an average of two hundred and fifty pounds of nuts each season. The success of the Wolfskills has encouraged many others in the valley to emulate their example, and today this one of the most productive sections to be found in Northern California. Mr. Wolfskill has also kept up the stock busi8ness, raising a large number of draft horses as well as roadsters and in sheep has some fine thoroughbred Shropshires.
In 1889, Mr. Wolfskill married Mary, daughter of Alexander Blake. Mr. Blake was born in Green Brier County, Va., October 15th, 1827, and after living for some years in Illinois, Indiana, Iowa and Michigan, crossed the plains by ox team in 1850, locating at Hangtown, now known as Placerville, Ca., where he followed mining for a time. He then took up land where F. Chadbourn now lives in Solano County. He was very successful as a stock raiser and retired from active life in 1895. He married Virginia Brown, a native of Missouri, who is still living, and their children are John, Mary, and Joseph. One daughter Maggie is deceased. The children of Mr. and Mrs. Wolfskill are named as follows: Mathus Reed, Jarena Lorraine, and Clarence C., all of whom were born on the old homestead. Politically Mr. Wolfskill is a Democrat, and has always taken considerable interest in local politics, serving one term in 1891, as a member of the legislature. From his long residence in the state he is widely known and highly esteemed.
From Guinn, James Miller, 1904, History of the State of California and biographical record of coast counties, California: an historical story of the state's marvelous growth from its earliest settlement to the present time ... Also containing biographies of well-known citizens of the past and present, Chapman Pub. Co., Chicago, p. 736.
---
From the Sacramento Bee
(and reprinted in the Vacaville Reporter, October 2, 1914, p. 1)
J.C. WOLFSKILL DEAD
Was One of the Best Known Pioneers of the County
Hon. Joseph Cooper Wolfskill, one of the best known pioneer residents of this county, and widely known among the pioneers throughout the state, died at this home in Suisun valley last Monday, following an illness covering a period of a year and caused by an abscess of the throat.
Wolfskill was born in Howard county, Missouri, November 23, 1843, and at his death was nearly 71 years of age. He was 7 years old when his parents Mathius and Permelia Wolfskill, crossed the plains with an ox team in 1850, and settled on a ranch on Putah Creek, near Winters, in October of that year.
In 1866 the family removed to Suisun valley and settled on the old Wetmore ranch, which has been their home ever since, Joseph inheriting the old homestead at the death of his father in 1891. The place is one of the most historic in this part of the state, being natural beauty spot.
In 1889 the deceased was married to Miss Mary Blake, a native of Virginia, who migrated to this state in 1850. Besides his widow, he is survived by two sons and a daughter, namely Matthius, Clarence and Jarena Loraine Wolfskill.
Wolfskill in politics was a staunch Democrat, and always took an active part in the councils of that party. While ever in the front ranks of party politics, he held office only once, having served in the state assembly during the session of 1892.
The name Wolfskill is identified with the earliest settlement of this state. Two uncles of the deceased, John R. Wolfskill and William Wolfskill, settled in San Bernadino county as early as 1829. John R. was the first white man to settle in Solano county, near Winters, in the early 40's, having inherited a valuable grant of land from the Spanish government though his marriage to a woman belonging to a wealthy Spanish family. Some of this land is still occupied by his descendants.
---
The J.C. Wolfskill Ranch,
Suisun Valley, Solano County, California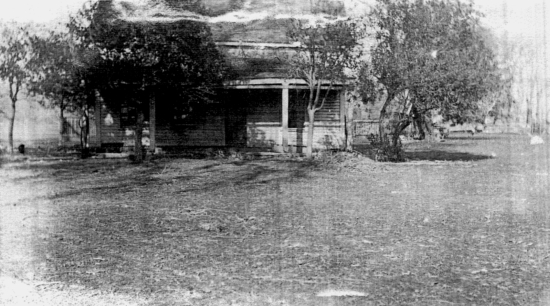 This house was built by Henry Whetmore sometime in the early 1850's. The lumber of which it was built came around Cape Horn by sailing vessel from the East or New England.
The place was purchased from Whetmore, by J.C. Wolfskill. His father, the late Mathus Wolfskill, with his family moved from Los Angeles, California onto this place along about the latter 1860's. There were of the Mathus Wolfskill family – Mathus Wolfskill, his wife Permelia, his two sons John and Joseph C., and a servant (Indian girl) named Kate.
When the place was purchased it was a dense growth of brush, vines and trees along the creek, and in the time of flood the water was obstructed by this growth of brush, vines and trees that the water could not pass off and the entire place was flooded. Mathus proceeded immediately to clear the creek of the obstruction and soon the water could pass on its way without overflowing the place.
Pears from the old Bartlett Pear orchard were among the first pears shipped fresh from California to the Chicago market. Washington Broker, Nate Saulsbury of Porter Bros., Chicago, Ill., began the shipment of California fresh fruit to the Chicago market and built up a nice business. Later other firms went into the business. Porter Bros. would buy these pears, pack, and ship them east by rail. The Suisun pears at the time were the best shipping pears for the eastern market.
On this ranch the famous Edelweiss was fouled and reared to race mare hood by the late J.C. Wolfskill. Edelweiss was the famous long distance race horse of the Pacific Coast for many years.
[This note is not by Ned Wolfskill but is from Transactions - State Agricultural Society]

California State Fair, Sacramento, September 12, 1888.— Free purse, $300 ; one mile ; for all ages.

Out of the seventeen nominations nine started: Edelweiss, Ashe's Idalene Cotton, Haidee, J M R, Fusilade's Last, Wild Oats, Oro, Al Farrow, and Nerva. Idalene Cotton brought $40 in the pools against $60 for the field and $32 for Al Farrow. At the first quarter Edelweiss was ahead, with Idalene Cotton second. The horses held this position all the way around, Edelweiss winning, Idalene Cotton second, and Haidee third. Time, 1:43.

Mrs. S. B. Wolfskill's br[own]. m[are]. Edelweiss — Hazlett 1 [name of the jockey]
This beautiful place belongs to the heirs of the late J.C. Wolfskill.
The old house has been torn down and removed – lo these many years and their residence now is a beautiful two-story frame building with all modern conveniences and comforts occupying a site near the old residence.
by Edward "Ned" Wolfskill,
Winters, California, April 30th, 1929
---
A Story About Judge Wolfskill
from Vacaville Magazine (but located online)
Donors Making a Difference helping nonprofits
by Andrea E. Garcia
There's a plot at Rockville Cemetery, where four large slabs of smooth concrete lie peacefully near the paved road, and where the story of Leslie Anderson, whose name is on one of the slabs, remains alive.
Born in 1894, raised in Green Valley, and married to Virginia May, Anderson ran about 1500 head of steer in the feedlot on Morrison Lane. Locals say he even owned more cattle that grazed on Anderson Hills - the stretch of land owned by the rancher that ran from Suisun Valley to Green Valley, north of Rockville Hills Park.
Anderson was known as a western guy to those around him, standing slightly over 6-feet-tall, donning a Stetson and packing a pistol in the likelihood of spotting a rattlesnake. But he was a hunter at heart, even killed an Alaska Kodiak bear in 1958 - an 11-foot behemoth that stood mightily on his living room floor until the day the Andersons passed away. Some folks say that Anderson had his house remodeled to accommodate the bear's height.
No doubt, this enormous trophy was cause for celebration, which he did with more than two dozen men at Rockville Corners Restaurant, now called Rockville Inn.
And it's here, in this pub, where Anderson was a frequent patron, drinking Black and White scotch and shooting dice with his good friend Clarence "Judge" Wolfskill, the man who now occupies one of the spaces next to him.
"Les and Judge were here (at Rockville), shaking dice, when they said, 'We gotta buy plots at Rockville Cemetery.' So they shook dice for the plots and all the cement work around it for both Les, Judge and their wives. Dad won and Les had to pay for everything. Everything. My dad was lucky," recalled Dolores Russell, Wolfskill's daughter, while sitting inside the very bar where the wager was made.
Russell, a spunky woman in her 70s with hair as white as the pearls around her neck, was one of three couples inside the tavern on this early Friday evening, a ritual they've kept up for decades. All knew of Anderson and some, like Ken Kinnaman, could tell a story of the man like it just happened yesterday.
"Judge was bugging Les one day while they were in the bar, and Judge kept telling Les that they had to go, they were late," Kinnaman remembered. "Well, Les walks out, gets into his Chrysler Imperial, pulls out his pistol, walks back in and shoots the hands off the clock. I guess they weren't late anymore."
But Les was more than a rancher. For many, he was a generous man, a philanthropist during his time, and basically, a "hell of a nice guy," as Kinnaman remarked fondly.
"I had 40 acres of land during the 1950s and was a part-time farmer raising hay and grain in the Suisun Valley area," Kinnaman recalled. "We knew my crop wasn't good but Les asked me to bring it to his feedlot. He took a fast look at it and told me I had more weeds than grain, but he still gave me market price. He knew I was struggling."
Bob Dittmer, an 88-year-old resident of Green Valley, whose grandfather purchased the land in 1881 that Dittmer lives now on, also remembers Anderson as being a charitable man.
"I remember when I was 7 or 8 years old, about 1928, that Curt Mason, Les and my father, Fred (Dittmer), started the Cordelia Fire Department," he said. "They collected money from every rancher in the area, Suisun and Cordelia, and with that money, they bought their first fire truck. Les designed that truck, making it into a fire truck."
Anderson, a decorated World War I veteran, and his wife lived in Green Valley until their deaths in 1975 and 1989, respectively. In 1969, however, this childless couple established a charitable trust in their estate plan and by 1989, the trust was endowed with nearly $500,000.
The Leslie and Virginia May Anderson Trust, then overseen by Jim Droast of Anderson, Smith, Droast and Connelly, required the trustee to place flowers on their gravesite three times a year. Jim's wife, 83-year-old Alice Droast, today remembers the many trips to Rockville Cemetery with her husband as they fulfilled their obligations, never once missing an occasion.
"The Andersons wanted flowers placed on their site every Easter, Memorial Day and Christmas. And we did it," she said.
By 1996, after Jim Droast passed away and the firm name changed to Anderson & Associates (no relation to Les or Virginia May Anderson), the trusteeship was transferred to Vacaville resident Becky Gardiner, a partner of the CPA firm.
Gardiner, wanting to preserve Anderson's philanthropic ideals, approached her partners in 2002 and suggested the firm open a fund at Solano Community Foundation with the fees collected from the trusteeship. All agreed.
"The Leslie and Virginia May Anderson Fund was created for charitable purposes and I didn't want any of it. It's for charity," Gardiner said.
Teresa Fitzgerald, a partner at the Vacaville location of Anderson & Association, agreed.
"I think that when you work and live in a community, you have a responsibility to give back whenever you can," said Fitzgerald. "This was a way to give back to the community and I respect Solano Community Foundation a great deal. It's our responsibility."
The Anderson & Associates CPA Endowment Fund started making grants in 2006 and to date, has granted almost $5,000 to local nonprofits.
In 2007, Anderson & Associates decided to transfer the Leslie and Virginia May Anderson Trusteeship and assets of the fund to Solano Community Foundation, which by then had grown to $2.3 million.
Since Virginia May's death in 1989, the Anderson Fund has generated more than $2 million in grants, with funds going to local nonprofits such as Vacaville's NorthBay Healthcare and the Elks Lodge of Vacaville and Fairfield.
It's Anderson's way of continuing his legacy and fulfilling a commitment to the community, now and in perpetuity.
You'll still find fresh flowers at the Anderson gravesite three times a year, as requested by the couple, placed either by Gardiner or a member of Solano Community Foundation.
And as for the enormous bear that Anderson shot, well, Alice Droast says she knows what happened to the beast.
"I was at the auction when they sold that bear," she said. "That was a huge bear and someone actually bought it."
---
---